Spinnet Client is a powerful communication platform that allows admins to effortlessly upload and share multimedia content with seafarers. This article provides insights into the diverse features of Spinnet Client, ensuring effective and real-time communication.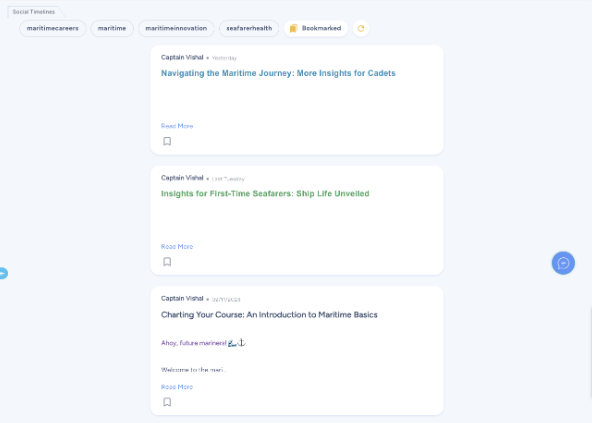 Features
1. Push Notifications
Admins can keep seafarers informed about crucial updates and announcements in real-time through push notifications. This ensures that important information reaches users promptly, enhancing communication efficiency.
2. Content Delivery
Spinnet Client facilitates the sharing of various content types, including text, PDFs, and short videos. Admins can utilize this feature for knowledge sharing, creating a dynamic and engaging learning environment for seafarers.
3. Circulars
Effortlessly disseminate Fleet circulars, Flag circulars, and safety circulars to the targeted audience. Spinnet Client ensures that circulars are efficiently delivered to the intended recipients, keeping them well-informed about important maritime matters.
4. Target Group Creation
Admins have the flexibility to create personalized target groups based on ranks, ship types, fleets, or any other criteria. This enables tailored communication, ensuring that messages reach specific groups with relevant content.
5. Training and Development
Spinnet Client serves as a valuable tool for training and development initiatives. Admins can deliver training materials, e-learning modules, and short instructional videos directly to seafarers' devices, promoting continuous learning at sea.
6. Surveys
Admins can conduct surveys on any topic as per the company's requirements. This feature allows for valuable feedback collection, ensuring that seafarers' opinions and insights are considered in decision-making processes.
7. News and Updates
Share industry and company news & updates seamlessly through Spinnet Client. Admins can keep seafarers well-informed about the latest developments, fostering a sense of connectivity and awareness.
8. Reliable Content Delivery
Rest assured that all content is delivered to end users' devices without fail, without dependency on intermediaries. Spinnet Client prioritizes reliability, ensuring that seafarers receive essential information consistently.