Loft Events is a comprehensive software framework for crafting immersive and interactive experiences within the maritime industry. It can be used for industry exhibitions, events, trade shows, or webinars, Loft Events empowers users to create impactful engagements with a fully configurable events framework.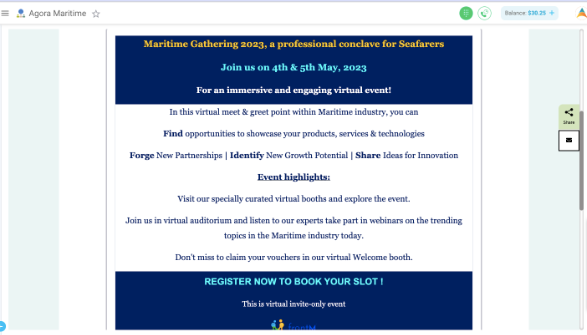 1. Personalized Experiences
Craft personalized experiences with our unique customisable features. Tailor each event to meet the user's specific needs.
2. Seamless Integrations
Say goodbye to juggling and struggling with multiple sites. Loft Events seamlessly integrates into the user's workflow, making virtual engagements effortless and effective.
3. Reasonably Priced Solutions
Our bouquet of solutions is reasonably priced, offering cost-effective licensing. Provide user's products with a fully branded experience without breaking the bank.
4. End-to-End Support
Enjoy end-to-end support and beyond. Loft Events is committed to ensuring a smooth experience for every user, from setup to execution and beyond.
5. Web and Mobile Solution
Experience the flexibility of a web and mobile solution. Loft Events ensures that crew can engage in virtual events anytime, anywhere, enhancing accessibility and participation.
Key Attributes
Who is this for:
- Ship Management (DPA, Operations, Crewing, Technical, HSQE, Purchase, Remote IT)
- Surveyors
- 3rd Party Solution Providers (OEMs, Safety Equipment)
- Service Providers (Insurance, Healthcare, Agents, Technical Services)
How to access: Onship superapp web and mobile.